Anthony Joseph Rubber Orchestras
Anthony Joseph & The Spam Band Rubber Orchestras
JOURNALIST NAME : La rédaction
Produit par Malcolm Catto, batteur et leader de The Heliocentrics, accompagné sur un titre par le fondateur des Specials (Jerry Dammers), voici le nouvel album d'Anthony Joseph : "Rubber Orchestras".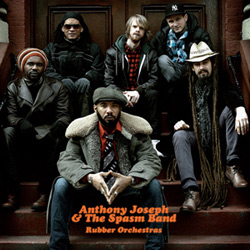 Deux ans après "Bird Head Son", le preacher man revient avec de nouvelles compositions endiablées qui font la part belle au voodoo funk, mais également à la soul, au black rock, le tout sur fond de textes politisés.
Pour aborder ce nouveau virage, Anthony Joseph s'est appuyé sur les talents du producteur Malcolm Catto, batteur et leader du groupe The Heliocentrics. Cette présence décisive n'est pas la seule nouveauté dans cette potion rétro-futuriste qui brasse tout à la fois raw jazz et deep soul, black rock et afro beat, soca funk et free swing… Loin de tout revival passéiste ou de toute fusion stérile, ce grand mix se lie à une remise en perspective résolument contemporaine.
Sur "Rubber Orchestras" Les invités sont nombreux dans ce jeu de multipistes : les musiciens des Heliocentrics, habitués du studio, ont bien entendu participé à la transe créative, et la voix profonde et chaleureuse de la chanteuse Jasnett Lindo souligne la nouvelle direction plus mélodique. » Cette « inconnue » est la preuve, s'il en fallait, de la curiosité naturelle d'Anthony Joseph, toujours prompt à inviter des convives à son festin cru. Last but not least, Jerry Dammers (avec lequel Anthony Joseph collabore depuis quelques années dans un projet baptisé The Spatial AKA) a rejoint ce banquet.
L'historique fondateur de The Specials, groupe phare de l'Angleterre du début des années 80, s'est mis derrière les manettes pour arranger et sublimer un poème visionnaire et révolutionnaire, l'emblématique suite intitulée Generations, qui concentre tout l'à-propos de son auteur-compositeur. Pour télécharger le nouvel album d'Anthony Joseph, cliquez ici !
A noter qu'Anthony Joseph & The Spasm Band seront en concert à Paris et Marseille en septembre, alors n'hésitez plus et réservez vos places dans notre rubrique "Concerts" !
Label : Digisleeve
Date de sortie : 13 septembre 2011