Emily Jane White
Concert du 26 février – Nancy – L'autre Canal
JOURNALIST NAME : Cédric Bouquet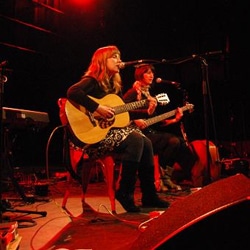 La chanteuse folk, Emily Jane White, a donnée une série de concerts en France. Zikeo.net était présent le 26 février dernier, à Nancy, pour la dernière représentation de l'artiste dans l'Hexagone.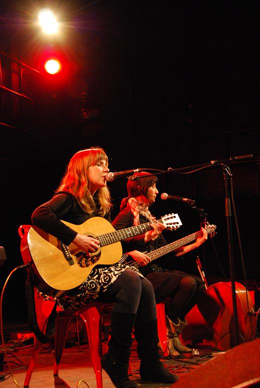 Emily Jane White est aussi discrète que sa musique… Preuve en est, son album sorti l'an dernier (le très réussi "Dark Undercoat") est encore bien mal connu voire inconnu dans nos contrées. Il faut dire que les chanteuses folk ne manquent pas et qu'il faut parfois une bonne opportunité pour sortir du lot…Car niveau composition, voix et mélodies, la jeune chanteuse n'a rien à envie à ses consœurs… C'est donc loin des grandes salles et des médias qu'Emily continue sa tournée, préservant la douceur de ses balades. Dernière date de sa tournée française (portée par le label bordelais Talitres) à l'Autre Canal à Nancy.
Après les premières parties approximatives et dispensables de No Opera et François Virot, Emiliy Jane White et sa troupe investissent la petite scène de bords de Meurthe. Eclairage minimaliste, ambiance feutrée, l'écrin idéal pour la musique sombre et mélancolique de la petite bande de San Francisco. Alternant piano et guitare acoustique, Emily dévoile l'intégralité de ses compositions folk-blues intimiste portées par sa voix d'ange et ses orchestrations soyeuses (guitare, slide-guitare, violoncelle, batterie étouffée). Le piano plombant de Wild Tigers I Have Known (écrit pour la B.O. du film de Cam Archer) prend toute sa mesure sur scène, transportant le public dans les contrées lointaines.
A l'écoute du magnifique Hole in the middle, on ne peut s'empêcher de penser à Cat Power que la chanteuse admire: "C'est en l'écoutant que j'ai trouvé ma voix, réalisé qu'en chantant plus avec ma gorge je pouvais me retrouver dans un registre vocal plus naturel et intense." avouait elle à la présentation de son album. On vibre encore sur ses accentuations de voix sur Two shots to the head, appuyées par le chant discret de la violoncelliste… Sur scène, la rigidité des musiciens ajoute à l'atmosphère sombre et mélancolique du set.
Pour son dernier concert en France, Emily Jane White livre un concert à l'image de son album: feutré et émouvant.
Label : Talitres