Ghostface Killah 36 Seasons
Ghostface Killah présente son nouvel album
JOURNALIST NAME : La rédaction
Ghostface Killah est de retour avec une nouvelle oeuvre discographique baptisé "36 Seasons".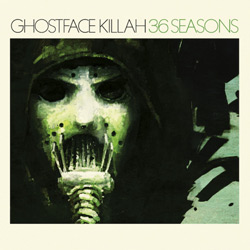 "36 Seasons" raconte l'histoire d'un super-héros du hip-hop qui revient à Staten Island à la recherche de vengeance personnelle et avec pour mission de sauver sa communauté des autorités corrompues et de la dégradation urbaine. En somme, Ghostface Killah délivre une nouvelle fois ce que les fans du Wu Tang désirent : des contes où paroles obscures se marient à des instrumentaux soul composés par The Revelations, The 45 King, M.O.P ou encore Malik Abdul-Rahmaan dont les productions collent parfaitement à l'intensité de la violence narrative du rappeur.
L'album voit aussi participer 3 artistes de talent à savoir AZ, Kool G Rap et Pharoahe Monch ainsi que les chanteuses Kandace Springs (star montante de Blue Note Records), Rell et Tre Williams. Cet album est accompagné d'un CD regroupant les instrumentaux et d'un livret de 20 pages regroupant des images saisissantes réalisées par une pléiade de dessinateurs de BD. Ce livret fût édité par la même équipe qui collabora avec lui sur une mini-série de 6 BD '12 Reasons to Die' sortie en 2013. Ghostface a un instinct de conteur hors-pairs. Il pourrait bien être le meilleur, le plus coloré des storytellers que le rap n'ai jamais connu.
Label : Salvation Records
Date de sortie : 9 décembre 2014