Jonas Brothers, un trio pop made in USA
Les Jonas Brothers, un trio made in USA
JOURNALIST NAME : Lila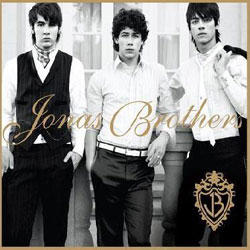 Les trois frères, Kevin, Joe et Nick, originaires de Wyckoff dans le New Jersey ont déjà sortis trois albums : "It's About Time" en 2006, "Jonas Brothers" en 2007, et "A Little Bit Longer" en 2008.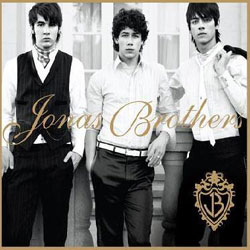 Ils ne paient pas de mine, comme ça, les frangins… Certes ils sont bien stylés, comme les aiment les jeunes adolescentes puritaines américaines, sans un épi de cheveux qui part sur le côté… Donc les Jonas Brothers sont un peu des androïdes préfabriqués par la société musicale made in USA… Mais, car il y a un mais, suprise! Leur nouvel album (car ils en ont déjà sortis un aux Etas-Unis, mais pas en Europe), éponyme, va connaître un beau succès. Les frères offrent un opus plein de promesses, promené par un premier single SOS bien rôdé. En plus de bien chanter (car il faut l'avouer sans honte, ils chantent bien les petits), ils écrivent eux-mêmes, comme des grands, leurs paroles et musique. Oui, certains diront que c'est encore gentillet, que ça parle de filles, de petites amourettes platoniques, mais on ne peut sincèrement pas demander à des jeunots de 15, 17 et 20 ans, d'être aussi doués que des vieux routards du rock ou de la pop. A retenir comme titre qui fera fureur cet automne, pour les boums de la rentrée, When you look my in the eyes, balade langoureuse mais plutôt bien réussie.
Les Jonas Brothers n'ont certainement pas à rougir de leur jeunesse, même si on les taquine souvent dessus… Ils confirmeront, on l'espère, l'adage qui dit: "le vin se bonifie avec le temps"… Alors en attendant que les adolescents se transforment en hommes avec des poils de partout (sic), on écoutera en boucle Hello Beautiful ou That's just the way we roll.
Label : Mercury / Universal