Missill Kawaii
Découvrez Kawaii, le nouvel album de Missill
JOURNALIST NAME : La rédaction
Le 28 février prochain sortira le nouvel album de Missill baptisé "Kawaii", dont le premier extrait sorti le 17 janvier 2011 s'intitule Invincible.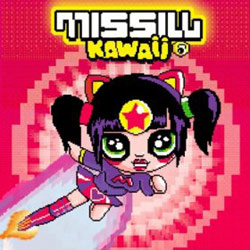 Missill, arme de distraction massive approuvée, reprend les manettes. Back in the Game, le Video Music Game. Mario, Sonic et autres Kong, faites place à la nouvelle "superhéroïne". DJ, productrice, graphiste, designer, Missill ne manque pas de super pouvoirs. Pour ce nouvel album, notre "ultime self made (wonder) woman" s'est créée son propre univers Kawaii (mignon en japonais): concentré de pixel art et de 8-bit. Bienvenue dans son nouveau terrain de jeu, un monde ultra coloré et pixellisé, concentré des dernières tendances électroniques au design sonore du plus bel effet. "Hyperactiviste", sa soif d'expression se manifeste autant par la musique que le graphisme. Ses deux mediums. Question d'équilibre. D'unité.
Marathonienne du mix, elle s'accorde un (rare) break pour mieux concevoir la production de son second album. Le concept est tout trouvé : le jeu vidéo. Images et son. Deux en un, une évidence autant qu'un authentique challenge artistique. D'un côté les samples vintage façon Atari ST ou Game Boy pour un son garanti 8-Bit, mais pas que, de l'autre, l'esthétique pixel art. Ces 12 titres se parcourent comme autant de levels rythmés par une bande son retrofuturiste, crossover entre musiques électroniques et urbaines.
Qui dit game dit personnages, interprétés ici par un casting aussi cosmopolite que talentueux. Rye Rye, dans la peau de l'héroïne Kawaii, et MC Dynamite, dans celle du monstre, Terrible Square, forment un duo de choc pour un irrésistible anthem ("Kawaii") au parfum sucré de J-Pop. Miam. Yarah Bravo, jamais très loin dans la plateforme, fait du puissant "Fire", et de sa bondissante bassline, un tube en puissance. L'Invincible Spoek Mathambo booste, quant à lui son capital rimes, à coup de Magic Potion. On tilte sur le cartoonesque Feel that bit mais on bugge totalement sur le ravageur Chuppa. Warning, la puissance supersonique de ce banger electro-rock pourrait faire exploser votre barre d'énergie. Ouf ! Fin de la partie, Game Over. Kawaïï, un album 5 étoiles !
High tech, Missill l'avant-gardiste voit les choses en grand et à 360°. "Control freak" par nature, derrière ses machines, elle crée, design ou supervise la direction artistique, et décline son univers sur tous les médiums possibles et inimaginables. Sur scène, son autre terrain de jeu favori, chaque titre se verra ainsi accompagné d'une séquence vidéo animée et contrôlée par la "Missill Game Girl", machine hybride entre le contrôleur midi et la borne d'arcade qu'elle a désigné elle-même. Pour se faire, elle s'est entourée, des british Seeper, soit le "best of the best" de ce qui peut se faire en matière de VJ. Attention aux yeux. Pour rester connecté à l'univers "Kawaii", Missill a également conceptualisé une application iphone sous forme d'un jeu de plateforme.
Tête chercheuse, Missill se joue des codes et des genres. Elle dessine la musique en 3D, conçoit le jeu vidéo musical, mixe les images en cadence… Bref, elle conçoit la bande son et images d'une vie cartoonesque et polychromique. Bye bye Kitty, hello Missill. Boom !


Label : Atmosphériques
Date de sortie : 28 février 2011