Nicolas Peyrac Monterey
Un nouvel album assorti d'un best-of pour Nicolas Peyrac
JOURNALIST NAME : La rédaction
Les cheveux plus longs et grisonnants mais l'éternel sourire aux dents du bonheur, Nicolas Peyrac revient avec son dix-huitième album studio, assorti d'un Best Of et d'un documentaire, plus de trente ans après le début de sa carrière.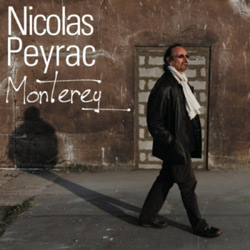 C'est en 1975 que Nicolas Peyrac explose avec des titres comme So far away ou Et mon père qui font désormais partie de la mémoire collective. Il revient aujourd'hui avec un nouvel album, intitulé "Monterey", et son single au titre éponyme qui fait office de suite au célèbre So far Away From LA. Un album riche et plein de poésie enregistré en live.
Retrouvez également le Best Of de dix titres de ses plus grands succès réenregistrés cette année, ainsi qu'un documentaire de 48 minutes sur l'enregistrement en studio et des interviews exclusives de Nicolas Peyrac disponible dans un coffret regroupant le nouvel album et le best of.
A noter que Nicolas Peyrac sera en concert à l'Européen le 30 janvier 2012.
Label : Sony Music