Puppetmastaz Revolve And Step Up!
Revolve and Step Up! : Le nouvel album des Puppetmastaz
JOURNALIST NAME : La rédaction
Enfants spirituels du Muppet Show et du Wu-Tang Clan, les marionnettes hip-hop les plus déglinguées de l'hyper espace reviennent conquérir le monde !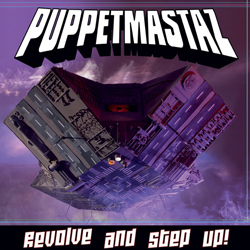 Nous ne pensions pas revoir les Puppetmastaz de si tôt ! Des déchirements internes auraient pu avoir raison de leur avenir. Mais, porté par leurs nombreux fans qui ont réagit avec ferveur à leur annonce de retour à la scène (plus de 30000 fans sur facebook), le groupe retrouve son énergie et son leitmotiv, à savoir reprendre le contrôle du monde aux humains.
Après des collaborations prestigieuses (Moby, Gonzales, Le Peuple de l'Herbe, Modeselektor…), le groupe se ressoude autour de leur noyau dur pour répandre son message sur les scènes du monde auprès d'un public qui se déplace en nombre à chaque visite des marionnettes. Nous retrouvons donc Maloke, Rhyno, Frogga et Snuggles pour leur cinquième album intitulé "Revolve and Step Up!" (une revirement pour mieux se faire entendre), dont les morceaux n'ont rien à envier à ceux des humains.
A dominantes hip-hop et ragga, les morceaux de ce nouvel opus s'inscrivent dans la tendance actuelle des grosses productions sur fond d'univers toujours ludique et attachant. Les albums des Puppetmastaz sont disponibles sur iTunes et Amazon !
Label : Discograph
Date de sortie : 26 mars 2012