Serj Tankian Elect the dead
Elect the dead
JOURNALIST NAME : Daniel Kall
L'une des figures de proue les moins conventionnelles de la scène rock, Serj Tankian, chanteur du groupe System Of a Down, débute sa carrière solo avec son premier album Elect the dead.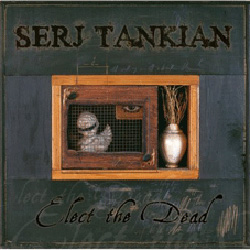 Le quintet System of the down, dont les albums studio se sont écoulés à plus de 16 millions d'exemplaires à travers le monde, a décidé de faire une pause en août 2006. Depuis lors, Tankian s'est enfermé dans son studio de Los Angeles pour composer, enregistrer et produire Elect the dead, album qui met en exergue les talents de songwriting et d'arrangement sonore d'un artiste davantage reconnu pour son timbre de voix unique, ses paroles engagées et sa dévotion aux causes humanitaires.
Au rebours de ce que certains avaient prédit, Elect the Dead n'est pas le pendant d'une excursion dans la world music mielleuse, mais apparaît sous les formes d'un disque profond aux multiples facettes, parsemé de références à la musique psychédélique et classique, d'images surréalistes et de repère temporels biaisés qui sont autant de marque de fabrique de Tankian. Cet opus est définitivement un album rock en perpétuel mouvement, qui flirte entre montées et descentes, départs et arrêt, et changement de tempo.
Un album à la fois provocateur et touchant à télécharger sur
Warner music, décembre 2007