The Living Things – Ahead of the lions
Ahead of the lions
JOURNALIST NAME : Daniel Kall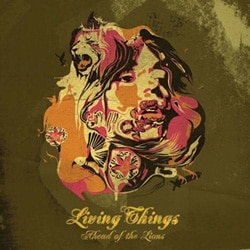 Avec la sortie de leur album, les Living Things sont à deux doigts de provoquer des drames aux sein des familles qui pensaient que la crise d'adolescence de leur progéniture appartenait au passé. Cet opus risque fort de faire replonger la plupart des jeunes fans de punk assoiffés de grunge vers la voie de la contestation nasillarde.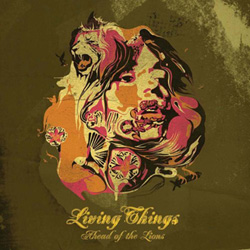 Attendu pour 2004, voici enfin le véritable album de ce groupe de punk rock sauvé in-extremis par Steve Albini (Nirvana, PJ Harvey, Pixies) qui s'est chargé de l'enregistrement de l'album sorti dans les bacs le 27 mars dernier. Ce groupe familial, composé des frères Berlin (Lillian, Eve et Bosh) et rejoint depuis peu par Corey Becker, un ami guitariste, joue à fond la carte de la provocation avec leurs textes antigouvernementaux tel que I Owe et l'excellent Bombs Below qui sont de violents réquisitoires contre la guerre en Irak et par conséquent de la politique Bush. Pas étonnant dans ce cas qu'on leur ai mis des bâtons dans les roues. Surtout lorsque dans un pays puritain où la foi est une fin en soi, ces quatre rebelles en herbe s'attaquent à la religion avec des titres aussi évocateurs que End Gospel, No New Jesus et leur tube radio du moment God Made Hate. Heureusement que Steve Albini était là pour sortir ce groupe du bourbier dans lequel il s'était fourré.
"Ahead Of The Lions" a beau ravir certains de mes confrères, les textes en restent néanmoins simplistes et leur musique, un condensé de tous les stéréotypes d'un punk rock bien gras qui tâche. Certains titres rappelleront à certains les Foo Fighters alors que pour d'autres, ce seront les Clash ou les Ramones. On peut dire que Living Things aura réussi le pari de provoquer quelques débats sur des sujets d'ordre politique et social.
"Ahead Of The Lions" est un album sur lequel on accroche difficilement à la première écoute mais, au fur et à mesure, on se ravise, et on lui accorde finalement le statut de « quasi réussite » en espérant que leur prochain album sera comme on aime le dire dans l'Hexagone, celui de la maturité !
Living Things, "Ahead Of The Lions", Jive/Sony BMG, sortie le 27 mars 2006.