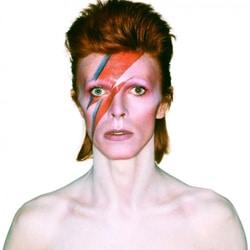 David Bowie est né en Grande-Bretagne, à Brixton, dans la banlieue de Londres, le 8 janvier 1947. Fregoli du rock, l'artiste aux milles visages, a trouvé sans doute dans son constant changement de personnalité le moyen d'échapper à la répétition et le secret de sa longévité. Du spatial Ziggy à l'aristocratique Thin White Duke, du dandy berlinois de Low au soul man de Young Americans, de l'ange exterminateur de Tin Machine à l'allumé Aladdin Sane, le héros aux troublants yeux vairons a toujours su innnover en imposant des images fortes et des rythmes inédits.
David Jones, de son vrai nom, se rebaptise Bowie en hommage au compagnon de Davy Crockett, le colonel Bowie, du Fort Alamo. David Bowie & The Lower Third publient leur premier single Can't Help Thinking About Me en 1965, de la pop façon Kinks, mais c'est par la scène, où il se démène outrageusement, que David se constitue un public. Il se sépare alors du Lower Third pour The Buzz… l'espace de 6 mois. Dorénavant des musiciens successifs, l'accompagneront dans son cirque rock.
Dans la tempête « flower power », notre dandy compose de précieuses chansons comme Rubber Band ou Little Bombardier, à la naïveté exacerbée. Mais il penche aussi du côté psyché et sexe avec des titres tels que Let Me Sleep Beside You ou le délicat In The Heat Of The Morning. Il rencontre alors l'artisant de son succès à venir, le producteur Tony Visconti.