Variety Lab Team Up !
Variety Lab Team Up !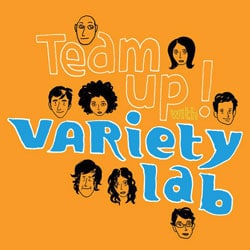 Découvert en 2003 avec l'album « Providence », Variety Lab signait à l'époque une échappée belle électronique de Thierry Bellia dont le morceau London In The Rain figurait sur toutes les bonnes compilations Lounge. Cinq ans après, c'est avec « Team Up ! », que Variety Lab nous revient enfin.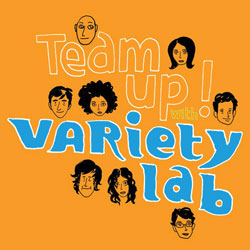 « Team Up ! » s'ouvre avec la légende du folk Donovan qui, après quelques mois d'échanges de démo avec Thierry Bellia, est venu à Paris offrir sa voix au morceau d'ouverture de l'album, Is This The Last Time ?.
Sur les trois autres morceaux qui composent ce nouvel opus c'est le chanteur du groupe belge Sharko, David Bartholomé, qui prend le micro sur les titres We Should Be Dancing, Mireia et le très rock Not Enough.
On croise aussi d'autres invités comme la fantastique chanteuse des Bellrays, Lisa Kekaula qui pose sa voix rauque et rugissante sur Let's Boogie, un titre groovy et vocodé qui dégouline d'une énergie soul et rock qui sent bon la ville de Detroit.
Vincent Mougel le gars de Kidsaredead fait quant à lui mousser le titre Sodapop Confusion alors que la belle nancéienne Mona Soyoc (ex Kas Product) fait transpirer de sensualité la reprise des anglais de Flying Lizard, eighties Money. Enfin pour finir en apothéose, Yael Naim, la sensation de l'année 2008 qui donne sa vision très personnelle de Love Is A Bird.
Label : Peermusic