Festival Antigel 2012
Programme Festival Antigel 2012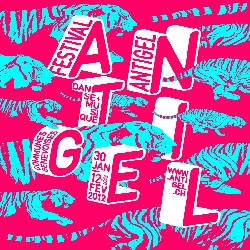 La deuxième édition du Festival Antigel se tiendra dans seize communes genevoises, du 30 janvier au 12 février, ainsi que du 23 au 25 février 2012.
Danse et musique vont encore polliniser la région grâce à une cinquantaine de spectacles. En guise de têtes d'affiche: Peter Doherty, Cat Power, dEUS, The Dø, ainsi que The Forsythe Company ou la compagnie Marie Chouinard côté danse. Marque de fabrique du Festival, des projets « Made in Antigel » se tiendront dans des lieux aussi insolites qu'inédits : l'Organisation des Nations Unies à Genève, Genève Aéroport, des hôpitaux, des piscines, une halle de curling ainsi que des symboles du patrimoine industriel genevois comme l'Usine des Cheneviers et le site de Vessy.
Le Festival Antigel parie à nouveau sur son rôle de stimulateur et trait d'union en couplant le son au mouvement, le sport à l'art et le centre à la région sur le vaste plateau scénique qu'offrent les communes d'Aire-la-Ville, Bernex, Carouge, Chêne-Bourg, Collonge-Bellerive, Confignon, Genève, Grand-Saconnex, Lancy, Meinier, Meyrin, Onex, Troinex, Vernier, Veyrier et Plan-les-Ouates. A l'image de notre tigre assoiffé d'explorations créatives, le territoire genevois devient aire de jeu d'artistes multi-talents venant des quatre coins du monde.
Dans le sillage de Peter Doherty qui assure l'ouverture d'Antigel sous les ors du Victoria Hall, les autres têtes d'affiches rock, pop et chanson que sont Cat Power, dEUS, The Dø, Nada Surf (accoustique), Daniel Darc ou Katerine, Francis et ses peintres devraient sans peine tenir le haut du pavé musical. A leurs côtés, Antigel réitère son envie de proposer des découvertes aussi singulières et marquantes que prometteuses. Que ce soit par l'intermédiaire du crooner enfumé Baxter Dury, du fulgurant blues-rockeur Hanni El Khatib à la piscine du Lignon, du mélodieux tandem franco-malien Vincent Ségal & Ballaké Sissoko, du multi-instrumentiste enchanteur Chapelier Fou ou des jeunes prodiges folk et blues Ben Howard et Mirel Wagner.
PROGRAMME FESTIVAL ANTIGEL 2012