Des inédits de David Bowie enfin disponibles
Découvrez un deuxième single inédit de David Bowie, extrait du coffret et album TOY.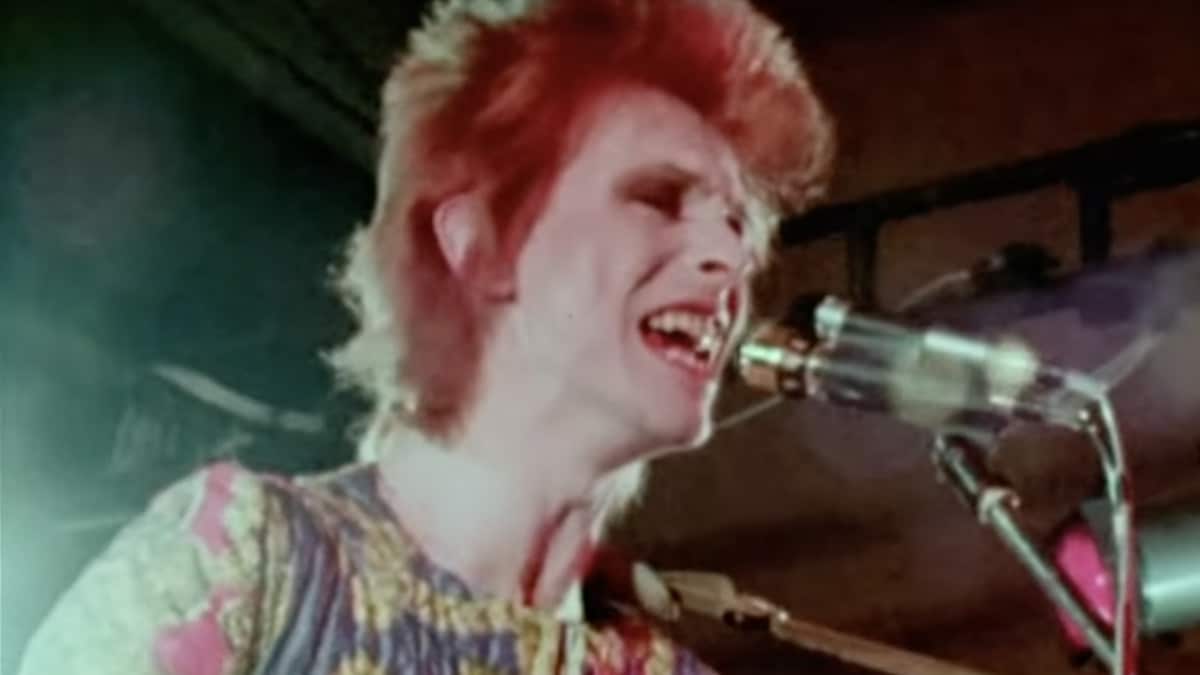 ISO Records/Parlophone Records annonce la sortie de Can't Help Thinking About Me, un réenregistrement inédit du single de 1966 de David Bowie, extrait de l'album à paraître TOY, disponible ici !
Inclus dans les coffrets « DAVID BOWIE 5. BRILLIANT ADVENTURE (1992 – 2001) » et « TOY (TOY:BOX) ». L'enregistrement studio est accompagné d'une version live exclusive enregistrée aux Maida Vale Studios, le 25 octobre 1999, pour le Mark Radcliffe BBC Radio 1 Show.
Can't Help Thinking About Me était le premier des trois singles de David Bowie enregistré pour le label Pye. Il a été ressuscité pour la première fois plus de 30 ans après lorsque David Bowie l'a interprété lors de l'émission VH-1 Storytellers, en août 1999. La chanson a fait ensuite partie de la setlist de la courte tournée promotionnelle de l'album « hours… ». La vidéo inédite de ce titre a été filmée à l'Elysée Montmartre à Paris le 14 octobre de la même année.
Sa version live a été enregistrée pour l'émission de Mark Radcliffe sur BBC Radio 1. Mark et son co-présentateur Marc Riley se souviennent de ce jour avec émotion. Mark Radcliffe : « Je suis si heureux que ce titre soit publié, car c'était une telle joie et une telle surprise de l'avoir inclus dans son concert à Maida Vale. Je me souviens très bien de ce moment. David portait une superbe chemise et était en grande forme. Je me souviens de David dansant avec Gail Ann Dorsey sur « ITry » de Macy Gray qui passait à la radio. J'ai interviewé Gail Ann il y a un an environ, et elle se souvenait aussi très bien de ce moment. C'était l'un des moments les plus chers que j'ai pu passer avec lui et je lui en sera toujours reconnaissant« .
Marc Riley : « Pour être honnête, l'idée que David Bowie vienne faire une session chez nous était incroyable. David nous a dit : « L'un d'entre vous a demandé à ce qu'on joue 'Drive In Saturday' ». Je suis resté bouche bée. Quelle prétention de ma part ! « Oui, David", lui ai-je répondu. « Nous pouvons la jouer ! Voici la setlist de ce que nous jouons en ce moment, que voulez-vous d'autre ? » Je crois que je n'ai jamais été aussi rapide de toute ma vie : avant que Mark n'ait pu sortir la main de sa poche, j'avais pris la feuille de David et je l'ai lue de haut en bas. « Vous jouez 'Can't Help Thinking About Me' ! !! » « Nous la jouons… vous la voulez aussi ? » « Oui ! !! ». La session était incroyable et David nous a même donné un morceau supplémentaire, une brillante interprétation de 'Repetition' , sur l'album Lodger. »
DAVID BOWIE 5. BRILLIANT ADVENTURE (1992 – 2001) est le dernier d'une série de coffrets récompensés par de nombreux prix et acclamés par la critique incluant DAVID BOWIE 1. CINQ ANS (1969 – 1973), DAVID BOWIE 2. WHO CAN I BE NOW ? (1974 – 1976), DAVID BOWIE 3. A NEW CAREER IN A NEW TOWN (1977 – 1982) et DAVID BOWIE 4. LOVING THE ALIEN (1983-1988), DAVID BOWIE 5. BRILLIANT ADVENTURE (1992 – 2001) est disponible en coffret 11 CD, coffret vinyle de 18LPs et coffret digital standard. Ce coffret est intitulé d'après l'avant-dernier titre instrumental de l'album « hours…« .
Ces coffrets comprennent des versions remasterisées, avec la participation des producteurs et collaborateurs originaux, de certains des albums les plus sous-estimés et expérimentaux de David Bowie : BLACK TIE WHITE NOISE, THE BUDDHA OF SUBURBIA (disponible en vinyle pour la première fois depuis près de 30 ans), 1.OUTSIDE, EARTHLING et 'hours…', ainsi que l'album live augmenté BBC RADIO THEATRE, LONDON, 27 JUNE 2000, la compilation RE:CALL 5 (titres hors-albums / versions alternatives / faces-B et bandes originales de musique de films) et le légendaire album inédit TOY.
TOY a été enregistré au lendemain de la performance triomphale de David Bowie à Glastonbury, en 2000. Bowie est entré en studio avec son groupe, composé de Mark Plati, Sterling Campbell, Gail Ann Dorsey, Earl Slick, Mike Garson, Holly Palmer et
, pour enregistrer de nouvelles interprétations de chansons qu'il avait gravées entre 1964 et 1971. David Bowie avait prévu d'enregistrer l'album « à l'ancienne » en enregistrant le groupe live dans le studio, en choisissant les meilleures prises et en le sortant dès que possible. Malheureusement, en 2001, le concept de sortie d'album « surprise » et la technologie pour assurer ce lancement étaient encore loin d'être au point, ce qui a rendu impossible la sortie instantanée de TOY, tel que David Bowie l'avait souhaitée. Entre-temps, Bowie a fait ce qu'il faisait de mieux : passer à quelque chose de nouveau, avec une poignée de nouvelles chansons issues des mêmes sessions qui allaient finalement constituer l'album HEATHEN, sorti en 2002 et reconnu aujourd'hui comme un des sommets de sa carrière.
Disponible en format 3CD ou 6 vinyles 25cm, TOY (TOY:BOX) est une édition spéciale de l'album TOY. L'idée de « capturer l'instant » propre aux séances d'enregistrement s'étend jusqu'à l'illustration de la pochette conçue par Bowie, qui présente une photo de lui en bébé au visage contemporain. Le packaging contient également un livre en couleur de 16 pages incluant des photographies inédites de Frank Ockenfels 3.
TOY:BOX comprend un deuxième CD (ou vinyles 25cm) de mixes alternatifs et de faces-B envisagées à l'époque (versions du premier single de David Bowie, 'Liza Jane', et de 'In The Heat Of The Morning' de 1967), des mixages ultérieurs de Tony Visconti et la 'Tibet Version' de 'Silly Boy Blue' enregistrée au Looking Glass Studio à l'occasion du Tibet House show de 2001 à New York, avec Philip Glass au piano et Moby à la guitare.
Le troisième CD (ou vinyles 25cm) contient des mixes « Unplugged & Somewhat Slightly Electric » de treize titres de TOY.
BBC RADIO THEATRE, LONDON, JUNE 27, 2000 et RE:CALL 5 sont également exclusifs à ces coffrets.
Le premier a été enregistré deux jours après le fameux concert de Glastonbury devant 500 fans chanceux réunis au théâtre art-déco de la BBC, dans le centre de Londres. Des extraits de ce concert étaient disponibles sur le troisième CD d'une édition triple-CD très limitée de BOWIE AT THE BEEB parue en septembre 2000, mais ce concert n'avait jamais été publié en vinyle.
RE:CALL 5 comprend 39 titres hors-albums, des versions alternatives, des faces-B et des chansons de bandes originales de films réparties sur 3 CD et 4 LP. Les livres qui accompagnent les coffrets physiques sont de 84 pages pour le coffret CD et de 128 pour le coffret vinyle. Ils contiennent des photos rares et inédites de Frank W. Ockenfels 3, Nick Knight, John Scarisbrick et Nina Schultz Terner, ainsi que de la memorabilia, des informations techniques sur les albums rédigées par les producteurs/ingénieurs Brian Eno, Nile Rodgers, Reeves Gabrels et Mark Plati, et une nouvelle interview d'Erdal Kizilçay, qui avait collaboré à THE BUDDHA OF SUBURBIA.