Korn de retour avec l'album « The Paradigm Shift »
Korn de retour avec The Paradigm Shift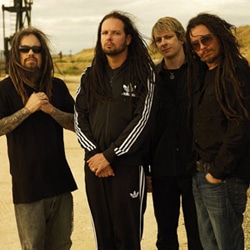 Deux ans après « The Path of Totality », Korn est de retour dans les bacs avec un nouvel album baptisé « The Paradigm Shift », à paraitre le 7 octobre.
Le onzième album studio de Korn, « The Paradigm Shift » sortira dans les bacs lundi 7 octobre. Il a été produit par le célèbre Don Gilmore (Linkin Park, Pearl Jam) et marque le retour du guitariste Brian « Head » Welch en studio après 8 ans d'absence.
Cet album mélange du vieux Korn avec de nouvelles mélodies, de nouvelles paroles et de nouveaux chœurs. Un Korn plus grand, plus lumineux et plus audacieux.
A noter que la version Deluxe CD + DVD comprend un documentaire de 60 minutes sur le retour de Welch dans le groupe et deux titres bonus : Wish I Wasn't Born Today et Tell Me What You Want.