Céline Dion présente son show conçu pour la France
Céline Dion sur scène avec ses plus grands tubes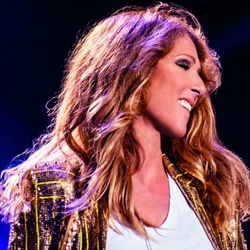 Le 19 mai prochain, Céline Dion sera de retour sur scène avec ses plus grands tubes dans un double cd et un dvd baptisé « Une Seule Fois / Live 2013 ».
C'est le 19 mai que Céline Dion sort son spectacle unique conçu pour la France. Il n'y a eu que 10 représentations au total (Une à Québec, 2 à Anvers et 7 à Paris-Bercy en novembre & décembre dernier), chacune à guichet fermé.
Ce spectacle, c'est 28 chansons dont 6 chansons extraites de « Sans Attendre » (plus grosse vente de CDs en France en 2012), 9 chansons de Jean-Jacques Goldman, All by myself, My heart will go on (Titanic), Loved me back to life, etc…
Au cours de ces 18 derniers mois, Céline Dion a vendu plus d'un million d'albums en France avec « Sans attendre » et « Loved me back to life » ; Au total, c'est plus de 220 millions d'albums au fil de sa carrière, dont 20 millions en français.