Laura Mvula s'offre le plus grand orchestre du monde
Laura Mvula de retour avec le Dutch Metropole Orchestra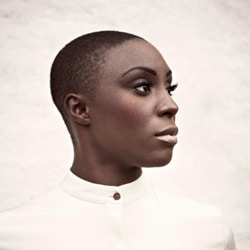 Laura Mvula est de retour avec l'album « Sing to the Moon », réenregistré aux mythique Studios Abbey Road avec le Metropole Orkest (dirigé par Jules Buckley), dont la sortie digitale et vinyle lest prévue pour le 18 août prochain.
A peine plus d'un an après la sortie de son premier album Sing to the Moon, ovationné par la critique, Laura Mvula (LA voix de 2013 selon The Evening Standard) revient sur cet enregistrement aux côtés du Dutch Metropole Orchestra (plus grand orchestre professionnel au monde dans sa catégorie).
Enregistré aux légendaires Studios Abbey Road de Londres, l'album est composé des 12 titres originaux tous réarrangés et dirigés par Jules Buckley qui a remplacé tout récemment Vince Mendoza aux manettes de cet orchestre unique. C'est après avoir travaillé ensemble sur une prestation à Urban Proms (concerts de la BBC avec orchestre classique) et face aux réactions exceptionnelles du public que Laura & Jules ont décidé de prolonger l'aventure sur disque.
Ces nouveaux arrangements donnent à la musique de Laura une dimension nouvelle, rendant hommage par la même occasion à sa formation classique au conservatoire de Birmingham.