Kanye West en concert au Zénith de Paris
Kanye West au Zénith de Paris le 25 février 2013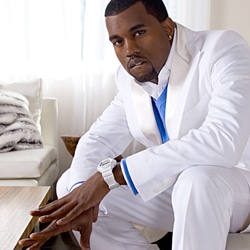 Kanye West vient d'annoncer un concert surprise et exceptionnel en France, au Zénith de Paris, le 25 février prochain.
Kanye West vient de créer l'évènement en annonçant un concert unique au Zénith de Paris le 25 février 2013. L'ouverture de la billetterie débutera le mercredi 13 février.
Le rappeur ne s'est pas produit en solo dans l'hexagone depuis quatre ans. Cependant, Kanye West a déjà rempli durant trois soirs le Palais Omnisports de Paris-Bercy l'année dernière, mais c'était avec son ami Jay-Z pour le « Watch the Throne Tour ».
Ce concert du chanteur dans la capitale sera certainement l'occasion pour lui de présenter sur scène quelques titres inédits de son prochain album. En effet, un nouvel opus est attendu cette année mais l'heure aucune date n'a encore été annoncé.
« My Beautiful Dark Twisted Fantasy », le dernier album solo de Kanye West, est sorti il y a maintenant deux ans et contenait les titres All of the Lights, Monster, et Power. Les albums de Kanye West sont disponibles sur Amazon !