The Cinema Of Quincy Jones
Quincy Jones fait son cinéma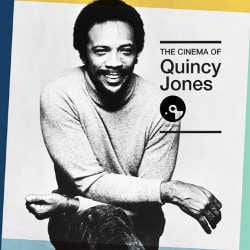 Pour la première fois, voici réunies les grandes partitions de cinéma de Quincy Jones, remasterisées en version intégrale. Il a fallu mener un long jeu de pistes pour retrouver et restaurer les bandes masters concernées, pour reconstituer le puzzle d'un fragment de vie entièrement voué à l'écriture pour l'image.
« J'ai voulu écrire des musiques de films dès l'âge de quatorze ans » affirme Quincy Jones. Ce rêve est devenu réalité dix-huit ans plus tard, en 1965, avec « The Pawnbroker » de Sidney Lumet.
Le cinéma de Quincy Jones, ce sont sept années d'une grande intensité, une parenthèse enchantée (1965-1972) prolongée par « The Wiz », film de sa rencontre avec Michael Jackson, et surtout « La Couleur pourpre » de Steven Spielberg. L'étape cinéma va être décisive dans la reconnaissance de son talent : jusqu'alors auréolé d'une réputation d'arrangeur virtuose, c'est Hollywood qui va installer et confirmer Quincy Jones en tant que compositeur. Grâce à des films de cinéastes en devenir (Sydney Pollack, Norman Jewison) mais aussi de grands vétérans (Richard Brooks, Sam Peckinpah). Le cinéma de Quincy Jones, ce sont notamment deux Everest incontournables : Dans la chaleur de la nuit, porté par l'interprétation de son ami Sidney Poitier, et De sang froid, que le compositeur considère lui-même comme sa bande originale la plus ambitieuse, nominée aux Oscars 1968.
Pour Quincy Jones, écrire pour le cinéma, c'est aussi faire la synthèse de ses différentes cultures : be bop, soul, rhythm and blues, dodécaphonisme, bossa. Il existe réellement un « son Jones » de ses années-cinéma, marqué notamment par une communauté de solistes, dont Toots Thielemans, géant de l'harmonica, et Don Elliott, caméléon vocal. Objectivement, le territoire cinématographique de Quincy Jones est bien plus vaste qu'on ne l'imagine a priori. A sa manière, cette luxuriante anthologie cherche à en dresser la carte.
Label : Decca Records
Date de sortie : 02 décembre 2016