Programme Montreux Jazz Festival 2017
Programme complet Montreux Jazz Festival 2017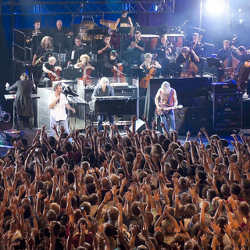 Convergences artistiques, rencontres jubilatoires et liens complices entre générations : cette 51ᵉ édition illustre toutes les facettes du Montreux Jazz Festival. Sculptée avec précision, la programmation puise dans la puissance fondatrice du jazz, débusque de jeunes talents saisissants et sonne les retours décisifs de sensations pop et de seigneurs du R&B.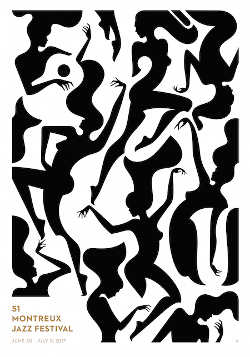 Particulièrement dense, le programme de cette édition se révèle dans la subtilité des alliages et des déclinaisons de genres. Le soin du détail, si cher au Montreux Jazz Festival, donne à cette partition sa consistance, profonde et intense. Cette année, l'expérience Out of the Box apporte une couleur de plus à la programmation. A travers des lieux emblématiques de la région, le Festival offre un écrin sur mesure à une poignée d'artistes coups de cœur. Une série de combinaisons inédites entre talents inclassables et lieux atypiques.
Explosant les barrières générationnelles et stylistiques, l'Auditorium Stravinski est un formidable conteur d'histoires musicales. De retour au Festival, Grace Jones et les Pet Shop Boys ont chacun à leur façon imposé une esthétique avant-gardiste, entremêlant musique et arts visuels. Côté rock, Brian Wilson et Bryan Ferry joueront le même soir (9 juillet). Les deux chanteurs ont tracé avec les Beach Boys et Roxy Music une voie royale au rock arty, que ne renieraient pas Phoenix, Kasabian ou The Kills, tous présents au Festival cette année.
Les histoires du Stravinski font aussi écho aux pouvoirs prophétiques de la scène du Lab. Ainsi, parmi les pépites dénichées par les programmateurs il y a quelques années, on retrouve sur la grande scène : London Grammar, Kaytranada, Passenger, The Lumineers et Nicolas Jaar. Ce dernier jouera le même soir que Max Richter pour une soirée d'ouverture somptueusement électronique. L'ascension de ces artistes au Mont-Stravinski souligne les relations soignées du Festival avec ses hôtes, construites sur le long terme.
Une année avant la naissance du Festival, en 1966, un artiste prometteur qui aurait parfaitement eu sa place au Lab, gagnait le Grammy Award du Meilleur nouvel artiste. Cinquante ans plus tard, la voix de Tom Jones n'a pas faibli d'un décibel. Il sera pour la première fois au Festival !
Héritiers de la soul et du funk, le hip-hop et le R&B sont cette année plus que jamais contés au Montreux Jazz Festival, avec en tête de liste Usher & The Roots. Si le roi millénial du R&B sera là pour la première fois, The Roots sauront lui montrer la voie : ils joueront pour la cinquième fois au Festival. Ex-chanteuse des Fugees, Ms. Lauryn Hill viendra pour un one-off exceptionnel le 6 juillet. Elle a récemment revisité magistralement six morceaux de Nina Simone pour « What Happened Miss Simone ? », documentaire de 2015 qui s'ouvre sur son concert mythique à Montreux. Autre reine de la néo-soul, Erykah Badu fêtera les vingt ans de son chef d'œuvre Baduizm, dont Solange, sœur cadette de Beyoncé, est la digne héritière, engagée et magnétique. Les deux chanteuses se produiront le même soir, précédées par Sampha (11 juillet).
Certaines histoires seront contées en une seule et même soirée : celle d'aventuriers du clavier avec Herbie Hancock et Chilly Gonzales (2 juillet). Celle d'une Afrique unie avec Youssou N'Dour et le projet malien de Matthieu Chedid : -M- LANOMALI (15 juillet).
Dans l'intimité feutrée du Montreux Jazz Club, légendes et jeunes prodiges du jazz se sentent comme chez eux. Un retour aux sources qui favorise l'improvisation et l'apparition d'instants rares. Cette année, il y a d'abord ces plateaux étourdissants, soirées nées de rencontres extraordinaires. Les garants du blues Taj Mahal et Keb' Mo' se retrouvent ainsi pour la première fois sur scène, après avoir enregistré l'album « TajMo ».
Shabaka & The Ancestors est l'histoire d'une rencontre spontanée, spirituelle et jubilatoire entre le saxophoniste londonien Shabaka Hutchings et des musiciens sud-africains. Les Français Emile Parisien et Vincent Peirani rendent hommage à Joe Zawinul, à travers le projet File Under Zawinul, qui réunira sur scène plusieurs compagnons de route du pianiste de Weather Report. Mare Nostrum se présente comme un poème en trois temps entre l'accordéoniste français Richard Galliano, le pianiste suédois Jan Lundgren et le trompettiste italien Paolo Fresu. Emmené par la voix fascinante de Cécile McLorin Salvant, le all-star band Woman to Woman réunit sept musiciennes incontournables du jazz actuel.
Au Club toujours, on retrouve la voix rugissante de Mavis Staples, monument de la soul et du gospel ; la chanteuse Ala.ni et ses ballades délicates ; le Morcheeba / Skye & Ross Trio, composé de la voix suave de Skye Edwards et la guitare de Ross Godfrey, ex-membres du groupe de trip-hop emblématique.
Des cordes vocales à celles des guitares, il n'y a qu'un pas. La programmation du Club affiche cette année à Montreux un casting incroyable d'explorateurs de la six-cordes, qui viennent chacun accompagnés de projets qui s'annoncent stupéfiants : John Scofield Uberjam ; Kurt Rosenwinkel's Caipi ; Dave Grusin & Lee Ritenour ; Wolfgang Muthspiel Quintet ; Bill Frisell, Tony Scherr & Kenny Wollesen.
LA BILLETTERIE DU MONTREUX JAZZ FESTIVAL EST OUVERTE SUR LES SITES DE LA FNAC ET DE FRANCE BILLET