Jean-Michel Jarre en live le 31 décembre depuis Notre-Dame
Le pionnier de la musique électro donnera un concert virtuel live depuis l'intérieur de la cathédrale.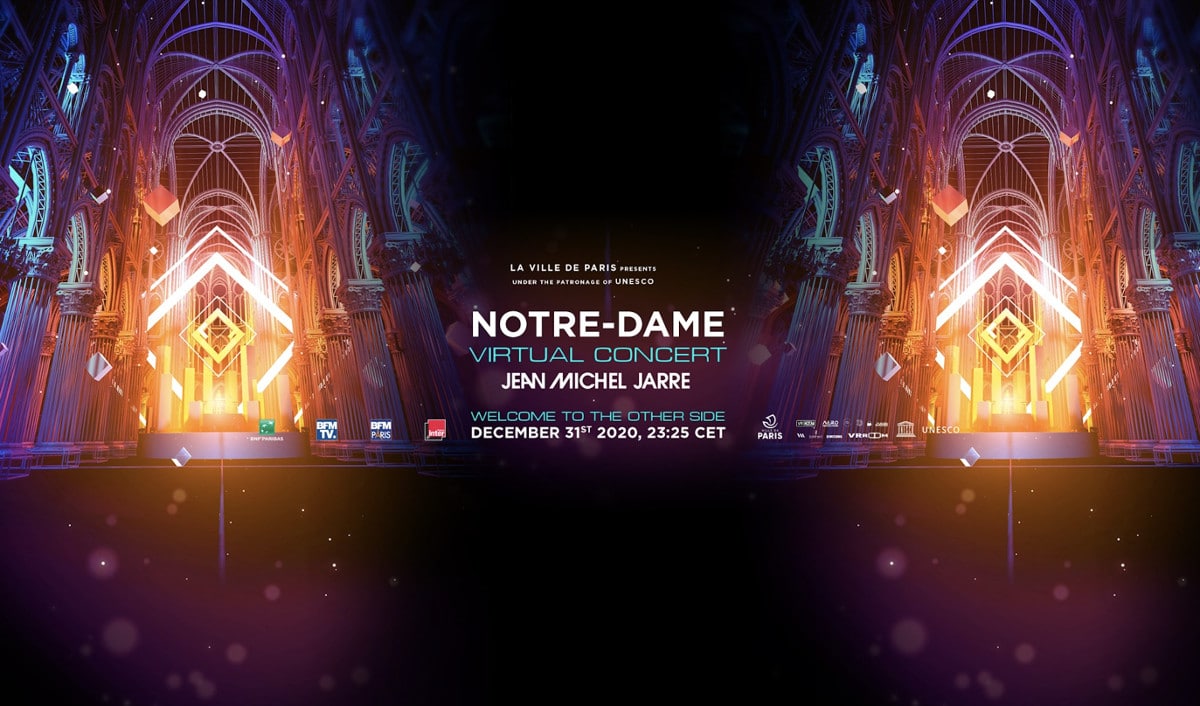 Alors que l'année 2020 s'achève dans un contexte inédit, la Ville de Paris a souhaité maintenir la célébration du passage à 2021. En effet, à circonstance exceptionnelles, programme exceptionnel, et c'est pourquoi la capitale, sous le patronage de UNESCO, a confié la réalisation d'un spectacle 100% virtuel et accessible à tous à l'un des pionniers de la musique électronique : Jean-Michel Jarre !
Ce concert multimédia baptisé « Welcome to the other side » (Bienvenue Ailleurs) se déroulera le jeudi 31 décembre de 23h25 à 0h15 depuis l'intérieur de la Cathédrale Notre-Dame, totalement reconstitué virtuellement.
Pour réaliser cette prouesse, Jean-Michel Jarre se produira en direct live depuis un studio à Paris en même temps que son avatar jouera à l'intérieur de la cathédrale, modélisée pour l'occasion.
NOTRE DAME DE PARIS : UN SYMBOLE COLLECTIF
Notre-Dame, au coeur de Paris, occupe une place unique dans l'imaginaire collectif. C'est un symbole de la force du patrimoine mondial qui nous lie les uns aux autres. Pour le monde entier, Paris est la ville lumière. En cette période difficile due à la pandémie, ce concert a vocation à réaffirmer à l'international que Paris ne plie pas devant l'adversité qu'elle sait tirer toute la force de son histoire et déployer de l'énergie grâce aux innovations technologiques, culturelles et économiques. Ainsi le spectacle « Welcome to the other side » enverra-t-il un message d'espoir et de force pour 2021, telle la cathédrale affaiblie qui sait se relever.
OÙ REGARDER CE LIVE ?
Ce concert multimédia du 31 décembre, entièrement gratuit et accessible partout en France comme dans le reste du monde sera diffusé en direct de différentes manières :
. En direct sur Paris.fr, sur le compte Facebook @Paris ainsi que sur les chaînes YouTube de la ville de Paris et de Jean-Michel Jarre. Accessible sur ordinateur, tablette et smartphone.
. En réalité virtuelle, sur la plateforme de VR sociale VRchat, pour le public équipé de casques VR, ou en 2D sur ordinateur, tablette et smartphone.
. En direct et en stéréo sur France Inter et sur BFMTV et BFM Paris.
D'une durée de 45 minutes environ, le live musical qu'interprétera Jean-Michel Jarre sera composé de morceaux spécialement réorchestrés de son dernier album, Electronica, nommée aux Grammy Awards, ainsi que de nouvelles versions remixées d'Oxygène et d'Equinoxe.
« La réalité virtuelle est aujourd'hui au spectacle vivant ce que le cinéma était au théâtre à ses débuts, une sorte de curiosité. Comme lui, la VR va devenir demain un mode d'expression à part entière », rappelle Jean-Michel Jarre.