Cypress Hill et Lana Del Rey aux Eurockéennes 2012
Découvrez les 15 premiers artsites de l'affiche des Eurockéennes 2012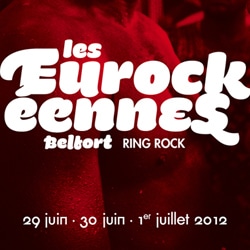 Quatorze nouveaux artistes rejoignent The Cure sur le ring du Malsaucy pour 3 rounds musicaux les 29, 30 juin et 1er juillet prochains. Rock, punk, électro, rap, chanson française, les genres s'assemblent aux Eurockéennes 2012.
À tout seigneur tout honneur puisque avant The Strokes et autres Franz Libertines, ses White Stripes ont amorcé le retour du rock au début des années 2000 : Jack White présentera ses nouvelles chansons sur scène. Tout comme la pulpeuse Lana Del Rey, phénomène de l'année et néo-princesse de la pop sortie de l'ombre pour faire mentir les éternels sceptiques et se frotter aux habitués des festivals qu'elle écoutait encore ado, du rock de Nirvana aux rappeurs catégorie poids lourd de Cypress Hill. Si ces artistes américains se présentent en force aux Eurockéennes 2012, accompagnés par le metal intelligent de Mastodon, le rap enfumé de Wiz Khalifa et le punk celtico-festif de Dropkick Murphys, il existe également des petits Français qui ont cassé la baraque bien avant The Artist aux Etats-Unis, et ce n'est que Justice pour le duo champion de l'électro « French touch 2.0 » !
L'Amérique ne lui pas encore ouvert ses portes même si elle l'a nourri : le rappeur normand Orelsan, doit déjà en remontrer à la bande de jeunes du collectif 1995, nourris au biberon du meilleur du rap français. Mais le respect des aînés commence d'abord avec ce pionnier d'un rock chanté en français autant que libéré des contingences parisiennes : gloire au régional de l'étape, Hubert-Félix Thiéfaine ! Ses compatriotes de Shaka Ponk ont beau avoir pris le parti d'embrasser l'Europe pour mieux mélanger électrorock et hip hop, notre beau pays s'y entend depuis longtemps pour accueillir à bras ouverts les talents grandis de l'autre côté de la Manche … Du (ho)bohémien folk (mais pas que) Charlie Winston au purement pop The Kooks, avec comme phare entre l'Angleterre et Belfort le rock toujours hanté de The Cure, Albion la blanche saura une fois de plus se fondre à merveille parmi les trois soirées du festival. Lequel accueille d'autres revenants, totalement inespérés, avec les punks (version hardcore) suédois de Refused, ressuscités plus d'une décennie après leur première vie.
Le refus des compromis a guidé toute l'existence de Muhammad Ali, boxeur de légende et figure de cette édition 2012 des Eurockéennes de Belfort : ne vous refusez pas à la musique, à toutes les musiques, et venez en profiter le dernier week-end de juin !