Le groupe Blur fête ses 21 ans d'existence
L'intégrale de Blur réunie dans un coffret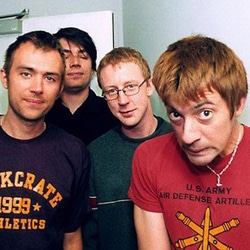 Vingt et un ans après la parution de son premier album, « Leisure », paru en 1991, l'œuvre de Blur a été compilée par le groupe et rassemblée dans un coffret qui sera publié par Parlophone le 30 juillet prochain.
Les sept albums studio seront réunis avec plus de cinq heures et demie de bonus, dont soixante-cinq titres inédits et plus du double de raretés, trois DVD, un livre collector (contenant des photos rares ou jamais vues et une toute nouvelle interview du groupe), et un single vinyle collector en édition limitée de Seymour. Le coffret contiendra également un code spécial permettant de télécharger l'intégralité des albums et les bonus.
Cette collection, dont les cinq premiers albums ont été remasterisés à Abbey Road par Frank Arkwright, a été supervisée par Graham Coxon et le producteur Stephen Street.
A noter dans cette édition : les premières versions des titres enregistrés pour « Leisure », des démos basiques des classiques For Tomorrow et Beetlebum, des chansons inédites telles que Saturday Morning et Hope You Find Your Suburbs, et des extraits jamais publiés de séances avec Bill Laswell et le légendaire Andy Partridge de XTC. Parmi les autres raretés, on note la présence de Don't Bomb When You're The Bomb, The Wassailling Song et Fools Day, disponibles en CD pour la première fois. Sur les DVD, les concerts « Live At Alexandra Palace 1994 » et « Live At Wembley 1999 ».
En même temps que ce coffret de vingt et un disques, les sept albums du groupe seront disponibles à la vente séparément, avec un second disque de faces B, titres rares et bonus associés.
Un coffret vinyle sera également disponible, avec les sept albums (13 LP) proposés en vinyle 180 grammes. Ainsi que chacun des sept albums, proposés à la vente individuellement. Pour télécharger les sept albums studio de Blur ainsi que les autres, rendez-vous sur iTunes et Amazon !