Programme Musilac 2011
Découvrez le programme complet du festival Musilac 2011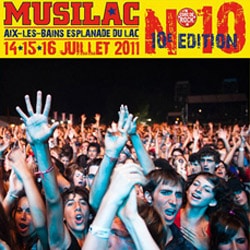 Zikeo.net vous propose de découvrir la programmation complète de l'édition 2011 du Festival Musilac qui vient tout juste d'être dévoilée !
Avec les confirmations de The Ting Tings, Ben L'oncle Soul, Eels, Cali, Lilly Wood and the Prick, Mademoiselle K, Cocoon, Jamaïca, Puggy, The Two et Selah Sue, l'affiche de la 10e édition du festival Musilac d'Aix-les-Bains, qui se déroulera du 14 au 16 juillet sur l'Esplanade du lac, est quasi bouclée ! (à ce jour, seul un seul des 33 groupes programmés reste à confirmer).
Pour fêter cette 10e, le festival proposera cette année non pas 10 mais 11 groupes chaque jour. Un groupe de plus, donc, pour lequel Musilac a particulièrement craqué ou en qui nous croyons très fort : les trois heureux élus sont Angus and Julia Stone, Lilly Wood and the Prick et Puggy !
Autre info : avec la complicité de deux festivals amis, (Beauregard, en Normandie et Les Déferlantes, du côté d'Argelès), le festival a décidé de choisir, chacun, un groupe de la région Rhône-Alpes à qui ils avaient envie de donner un coup de main. Chacun des trois heureux élus figurera à l'affiche des 3 festivals ! Du côté d'Argelès, un tremplin est en train de départager les meilleurs mais Beauregard a déjà choisi Concrete Knives et nous Lull, un artiste que nous suivons depuis quelques mois.
Côté réservations, tout va bien : le festival Musilac cartonne, mais il reste des Pass 3 jours, des places de campings, et bien entendu des Pass 1 journée !


PROGRAMME COMPLET FESTIVAL MUSILAC 2011