Un nouvel album en juin pour les Smashing Pumpkins
Oceania, le nouvel album des Smashing Pumpkins sortira en juin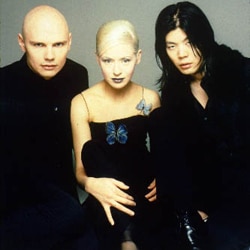 Que les fans se rassurent puisque les Smashing Pumpkins sont de retour avec un nouvel album baptisé « Oceania », dans les bacs le 18 juin prochain.
L'œuvre des Smashing Pumpkins est une des plus encensée de l'histoire de la musique, et ils ont vendu plus de 30 millions d'albums. Formés à Chicago en 1988, ils ont publié « Gish », leur premier album, influent et certifié platine, début 1991. Il a été suivi de plusieurs autres disques, également certifiés platine, parmi lesquels « Mellon Collie And The Infinite Sadness » (neuf fois platine), « Siamese Dream » (quatre fois) et « Adore ». Les nombreux tubes de cette formation cruciale ont délimité les contours d'une époque caractérisée par l'explosion du rock alternatif, et continuent de résonner sur les ondes, notamment via toute une nouvelle génération de groupes qui ont subi leur influence. Les Pumpkins ont refait parler d'eux en 2007 avec leur sixième album, « Zeitgeist », célébré par la presse et le public, et certifié or, qui s'est classé deuxième des charts américains et dixième des internationaux. Depuis, le groupe est resté à la pointe de la musique et de la technologie, comme le prouvent ses multiples parutions digitales.
« Oceania » a été enregistré dans le studio privé du chanteur-guitariste Billy Corgan, à Chicago, avec les membres de son groupe : Jeff Schroeder (guitare), Mike Byrne (batterie) et Nicole Fiorentino (basse et chant). Cette collection de treize chansons particulièrement impressionnante a été produite par Billy Corgan et Bjorn Thorsrud, et mixée par David Bottrill. Ce septième disque en studio des Smashing Pumpkins est en quelque sorte un « album dans un album » puisqu'il s'inscrit dans leur projet en cours de quarante-quatre chansons, intitulé « Teargarden By Kaleidyscope ».